Media Release: 17 June 2014, Methodist Public Issues Network
Tick for Kids – Spotlight on children for the 2014 Elections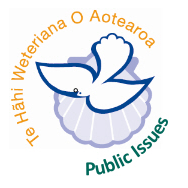 This election will determine the future of 285,000 children living in poverty in New Zealand. 'It Takes a Country to Raise a Child' is an adage that compels New Zealanders to take responsibility as a nation and turn around the future for 27% of children who are deprived of health, adequate housing and educational success. A quarter of these are Māori, another quarter are Pacific children. Poverty in New Zealand is 60% of the median wage, and is about $500 per week or less.
The Public Issues Network of the Methodist Church urges New Zealanders to give priority to children when we vote this year. Our high level of Inequality shows that wealth is unfairly distributed. New Zealand is 10th most unequal country out of 35 OECD countries. The concentration of wealth in the top 10% means that relatively few children grow up in privileged families while children in low income families are deprived of life opportunities. We need policies that ensure affordable housing for low income families, a Living Wage, education policies which give all children the chance to succeed. This includes children growing up in families on benefits. Low benefits keep children in poverty.
Tick for Kids is being launched in the same week as the People's Report on Domestic Violence. The first release of the Owen Glen inquiry identifies poverty as one of the causes of family violence. The threat of poverty, which might include the prospect of going on a benefit is one reason why women don't want to leave abusive and violent relationships. Children growing up with family violence are subjected to emotional and physical trauma. Their safety and health are at risk, their education is jeopardized, their future is unsure. In 2012 the Methodist Church launched 'Let the Children Live' as 10 year focus on reducing risk to children from violence and abuse, as well as reducing the tragedy of youth suicide.
Voting for children means checking policies for fair wages and adequate family incomes, affordable housing, and education which gives all children a chance. We know the cost of poverty is too high at $6 billion per year. Likewise the cost of domestic violence on children cannot be doubted.
A secure childhood and a great future for children are a shared responsibility. Methodist Public Issues calls on all parties to make an Accord for All Children – it makes sense in human and economic terms, for now and the future.
Contact:
Betsan Martin
Co-ordinator, Methodist Public Issues Network
Mob: 021 388 337
06:45PM Tuesday, 17 June, 2014